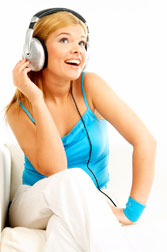 I have been listening to "talking books" since before I was born. You see my father read books to my Mom when she was pregnant. My mother never let my father read ghost stories to me, but he was allowed to read me all the action and adventure stories that he could find time for. Maybe that is why, when I was plus-years-old, I loved to read all of those same adventure stories to myself.
In a bookcase in our living room were titles like Robinson Crusoe, Tom Sawyer; and Alice in Wonderland. I loved them all, and I still do. Now I can hear all of these wonderful talking stories for the young, and young at heart.
C.S. Lewis wrote three of my now favorite audio books: The Screwtape Letters, Mere Christianity, and The Great Divorce. Over the years I had come across many references to The Chronicles of Narnia, but I always thought my time would be better spent by re-reading one of these marvelous books than by dedicating dozens of hours to stories written for children.
But then I discovered The Lion, the Witch and the Wardrobe, as well as all the other online audio books in the world of Narnia, and I learned how wrong I had been.
All good books have one thing in common; they are like our best friends, always there when we need them. When we listen to our favorite MP3 audio books, they talk to us as if they were mentors or counselors.
Here is a great place to get started. You can download audio files in the format that's best for your computer and Internet connection. You can download the highest quality file available if you have a high-speed internet connection. You will need to download a smaller file if you have a slow Internet connection, but the quality will still be very good.
There are prices for every income level and budget. I found many great titles that cost less than ten dollars. If you have never downloaded audio books before, or if you have a question about how to put your file onto your favorite audio format, it's easy to contact the support staff for help. I am glad that technology has finally caught up with art and literature. Books are made to be spoken, every bit as much as they are made to be read, and now we can hear books come alive and literally talk to us through all the different formats in which audio books are available today: iPods, MP3 players, and CD players. I don't have to stop what I'm doing to change the cassette, and I like that very much.I hope that you enjoy browsing and listening to the many thousands of audio books that we are proud to offer you on this ever-growing website.